Popular Anterior Harness
The Spex Centrepoint Harness is a very popular anterior harness option for both male and female wheelchair users featuring excellent adjustment, superior support, and a comfortable pad design.
With a curved pad construction and unique shape, it is designed to follow natural contours of the body making this a very comfortable option and provides superior support for most wheelchair users. It's support pad shape also means that it has clearance for stomach feeding tubes and other supports.
The Centrepoint's soft padded neoprene support surface, provides superior comfort for the user. The high-quality neoprene material offers the perfect amount of stretch to allow the user to move within the support and remain functional.
It's unique sternal section design ensures that when the harness is tightened, the straps stay pressed together around the user's sternum to maintain optimum anterior support.
The Centrepoint features a centre swivel buckle that is positioned low on the user's trunk for increased safety. It is also a suitable option for user's with limited hand function, as it can be independently operated by the user in a simple press and release action. As well as the easy-release mechanism that allows for easy transfers in and out of the wheelchair, these high-grade buckles maintain superior support around the user.
This harness is a positioning device only. Do not use as a safety restraint in vehicles.
Anterior Trunk Positioning Tips
Anterior upper body support is used to maintain spinal alignment over a stable pelvis. Increasing trunk support for proximal stability has been proven to increase upper extremity function.
These are sometimes necessary to maintain an upright trunk and head for functional use of arms, vision, breathing and feeding for individuals who pull or fall forward.
Attaching the lower straps of the harness to the backrest shell rather than the wheelchair frame provides a more snug fit.
Shoulder strap guides hold the harness in position over the user's shoulders.
Professionally hand-made for quality
Harness follows natural contours of the body
Dynamic fabric accommodates movement while maintaining positioning
Specially designed, durable polyester webbing is 'ridge' woven for maximum grip once adjusted
Soft comfortable pads offer excellent resilience, water resistance, and conform to the body without creasing
Sleek pad designs reduce coverage to minimise sweating
Smooth, soft polyester binding is comfortable against sensitive skin
Tough stainless steel adjusters which don't slip out of place
Attachment hardware allows for a multitude of positioning options
Choosing a Spex Anterior Positioning Harness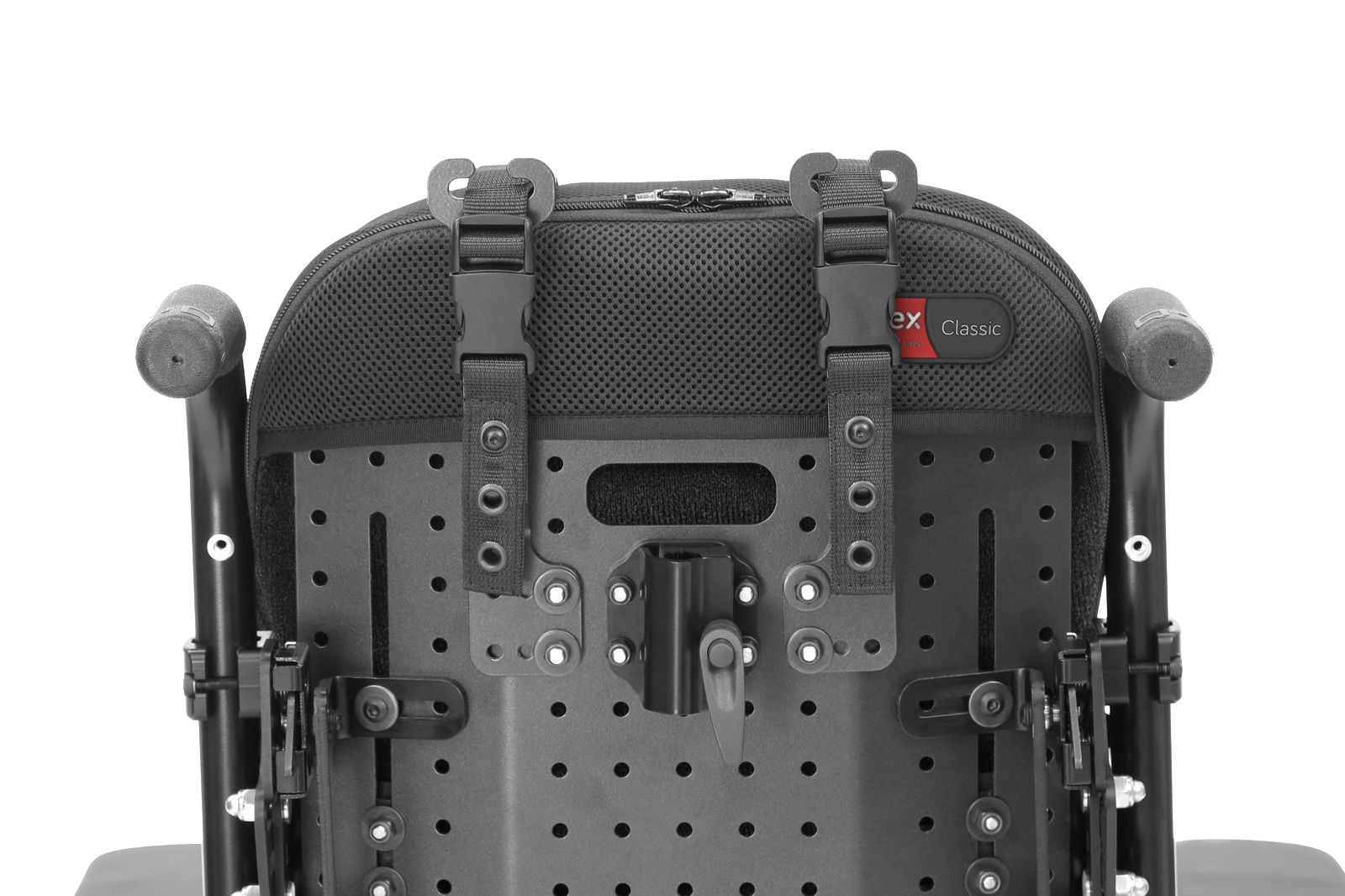 Spex Shoulder Strap Guides
Spex Shoulder Strap Guides
Recommended for any harness choice to prevent shoulder straps from falling off shoulders.
The Spex Harness Guides are height adjustable and fit both 1″ and 1.5″ straps. Package includes
a pair of 5mm aluminium strap guides and attachment hardware.
Part Number: 
Measurements
Selection Guide
| Centrepoint Dimensions | Code | Centre of Buckle to Top of Pad | Harness Height | Harness Width |
| --- | --- | --- | --- | --- |
| Extra Small | 1409-6660-017 | 23cm | 26cm | 22cm |
| Small | 1409-6661-017 | 29cm | 36cm | 32cm |
| Medium | 1409-6662-017 | 34cm | 40cm | 36cm |
| Large | 1409-6663-017 | 40cm | 45cm | 42cm |
|  Extra Large | 1406-6664-017 | 45cm | 50cm | 50cm |
Spex Hip Belt & Harness Size Selection Guide

Depends on physique of user
User's W/C width
8-12″
11-15″
14-17″
17-20″
20″+
Recommended size
Extra Small
Small
Medium
Large
Extra Large