Spex Cushion Technology
The Spex cushion is designed to create the optimum pelvic foundation for the wheelchair user. Well established and preferred by many professionals for its capacity to adjust on-the-spot in solving for both symmetrical and asymmetrical sitting postures. Spex cushion technology provides the key solution to positioning and levelling the pelvis correctly and effectively by strategic placement in the adjustable base cell system to further contour the cushion for correction or control.
The technology of the construction produces a broad distribution pattern with low peak pressures, and pressure analysis data suggest that the pressure distribution characteristics of the Spex cushion makes it an excellent candidate for people that are at risk of skin ulcers. Further pressure management and pressure redistribution is adjusted by simply rearranging and modifying the cells at any time.
Comes with washable Spacer fabric cover and incontinence cover
Spex Classic Cushion Overview
Designed for the user who has moderate to severe positioning and pressure requirements. Excellent choice for individuals who:
Need high control of abduction/adduction propensities.
Have changing postural needs over time.
Have a symmetrical or asymmetrical sitting posture that requires correction or control.
Require pelvic comfort and pressure relief/distribution.
Require a high degree of pelvic stability and specific contouring.
Have tight hamstrings/lack of hip flexion.
No maintenance required. A reliable, peace-of-mind solution!
Created as the solution-solver for asymmetrical postures.
Strategic contouring pads offer complete customisations on-the-spot for a perfect fit for the client.
Removable trochanter supports for pelvic obliquity or reduction, or build-up for hip flexion.
Gel-foam ischial well evenly distributes pressure under the pelvis and reduces shear forces in sensitive areas.
Coccyx channel for enhanced pressure relief (for sizes 16" +)
Includes breathable 'spacer' fabric cover and inner incontinence cover.
Strategic Positioning Base
Common Adjustments
Pressure Rating & Characteristics
With the proven in-built adjustable base system, the Spex cushion can be configured to solve many different pelvis needs ranging from basic cushion stability up to difficult pelvic situations.
Modifications by strategic placement in the adjustable base cell system further contour the cushion for correction, control, balance, stability, pressure redistribution and many other needs.
With adjustment being done at the base of the cushion, the upper foam layers are unaffected and don't cause bottoming-out or further pressure risks.
Configurations can be easily made so pressure is redistributed from the ischial tuberosities and coccyx onto the trochanters and femurs for enhanced load bearing and stability.
With treating each leg independently via the cells it is easy to obtain optimum positioning and levelling the pelvis correctly and effectively, and this process can be carried out without limit by simply rearranging and modifying the cells at any time for changing postural needs.
Obliquity adjustment is simple and can be built up with the 10mm pads to create the correct height required.
The Spex cushion can be adapted on-the-spot to suit individual pelvic needs including:
Pelvic obliquity
Tight hamstrings
Posterior pelvic tilt
Anterior pelvic tilt
Limited hip flexion (one side or both)
Extensor thrust
Pelvic rotation
And much more!
Below are some common adjustments to the strategic base:
Our Spex cushions have been laboratory tested in USA for pressure characteristics. Please note that this was tested using a standard Spex cushion without any contouring done to the positioning base.
Data demonstrated that pressure readings across all five zones (L/R Trochanter, L/R Ischial Tuberosity and Sacrum) show smooth transitions without significant peaks in pressure for both test cushions. The readings indicate good pressure distribution over the entire sitting surface.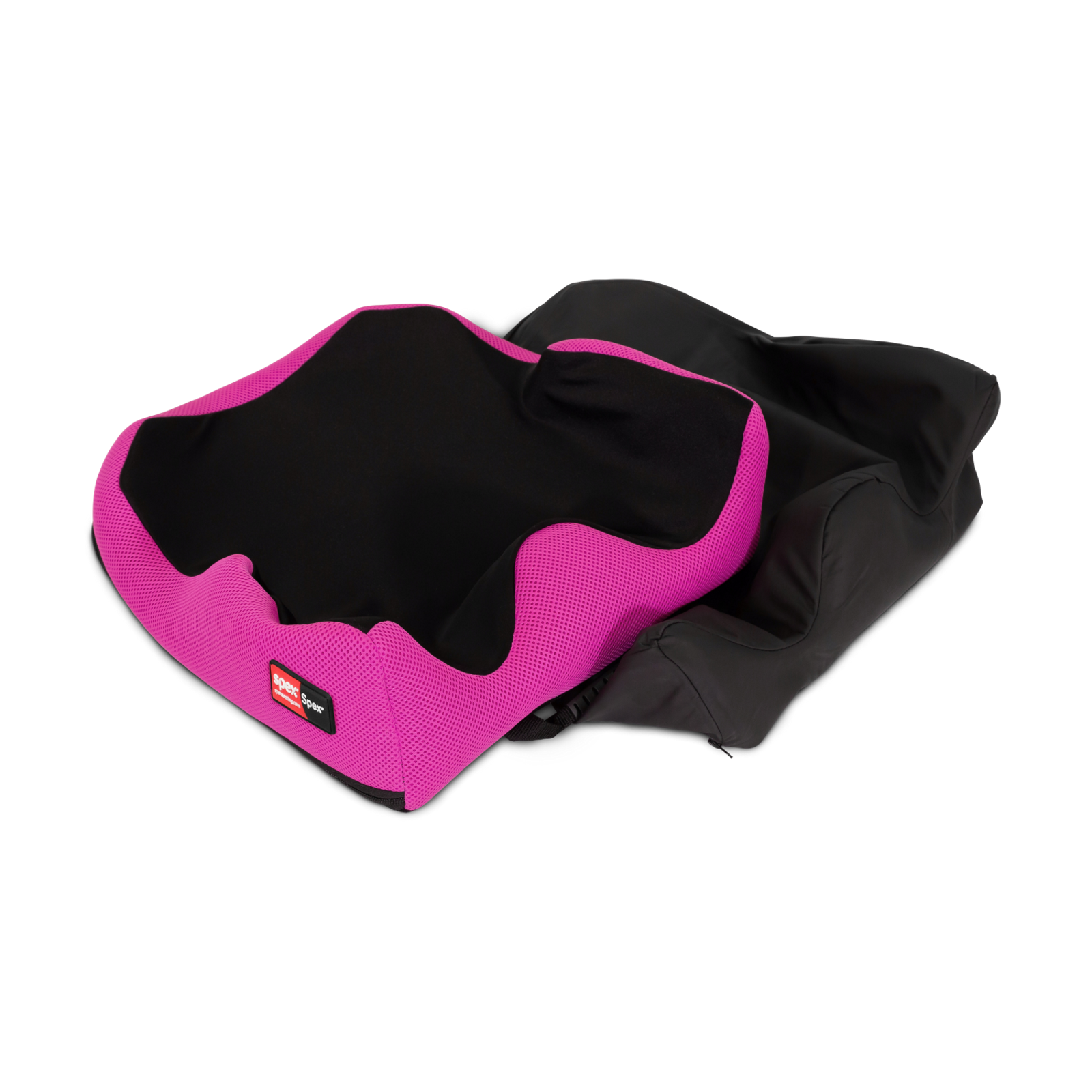 Spare Cushion Outer Cover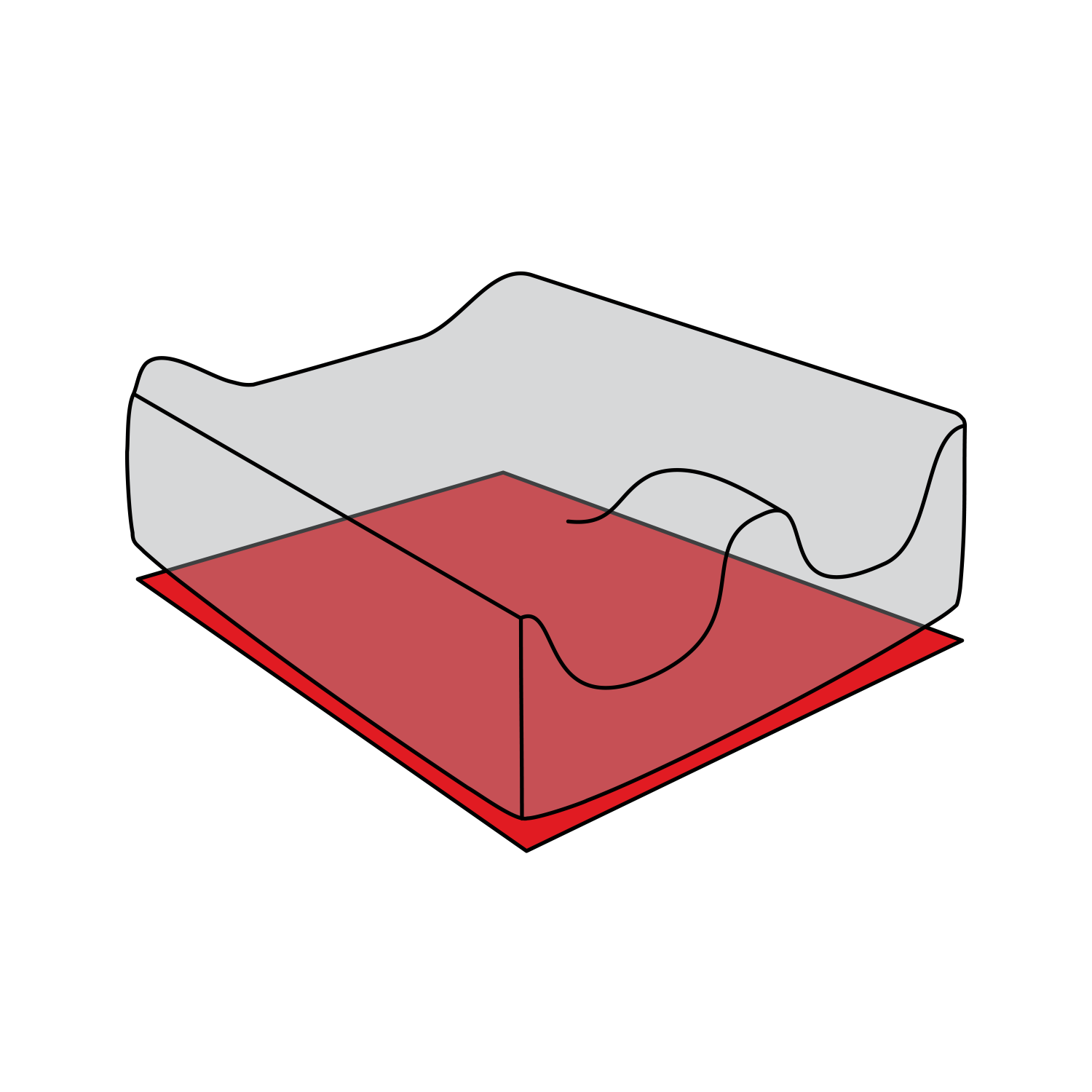 Spex Cushion Rigidiser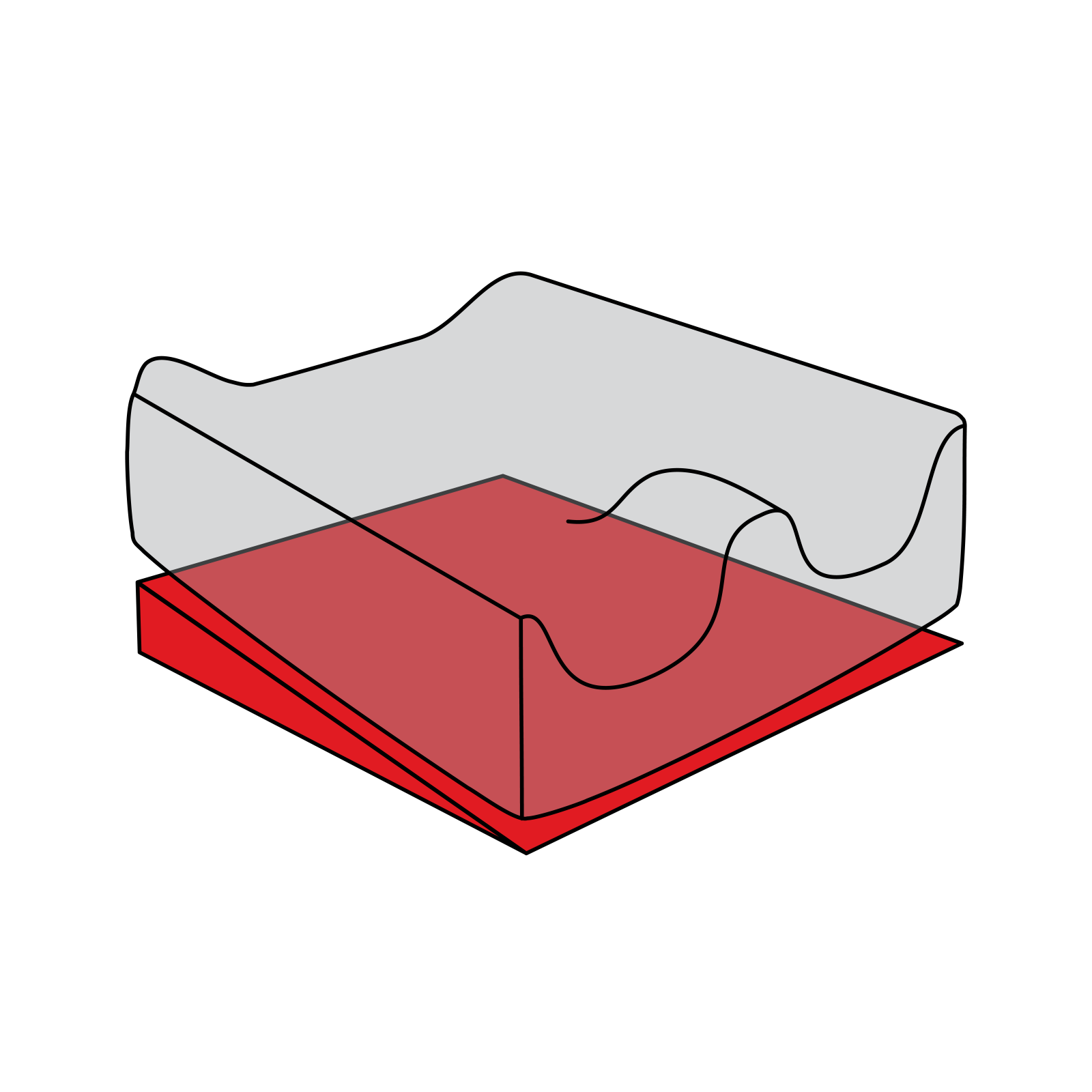 Spex 5° Cushion Wedge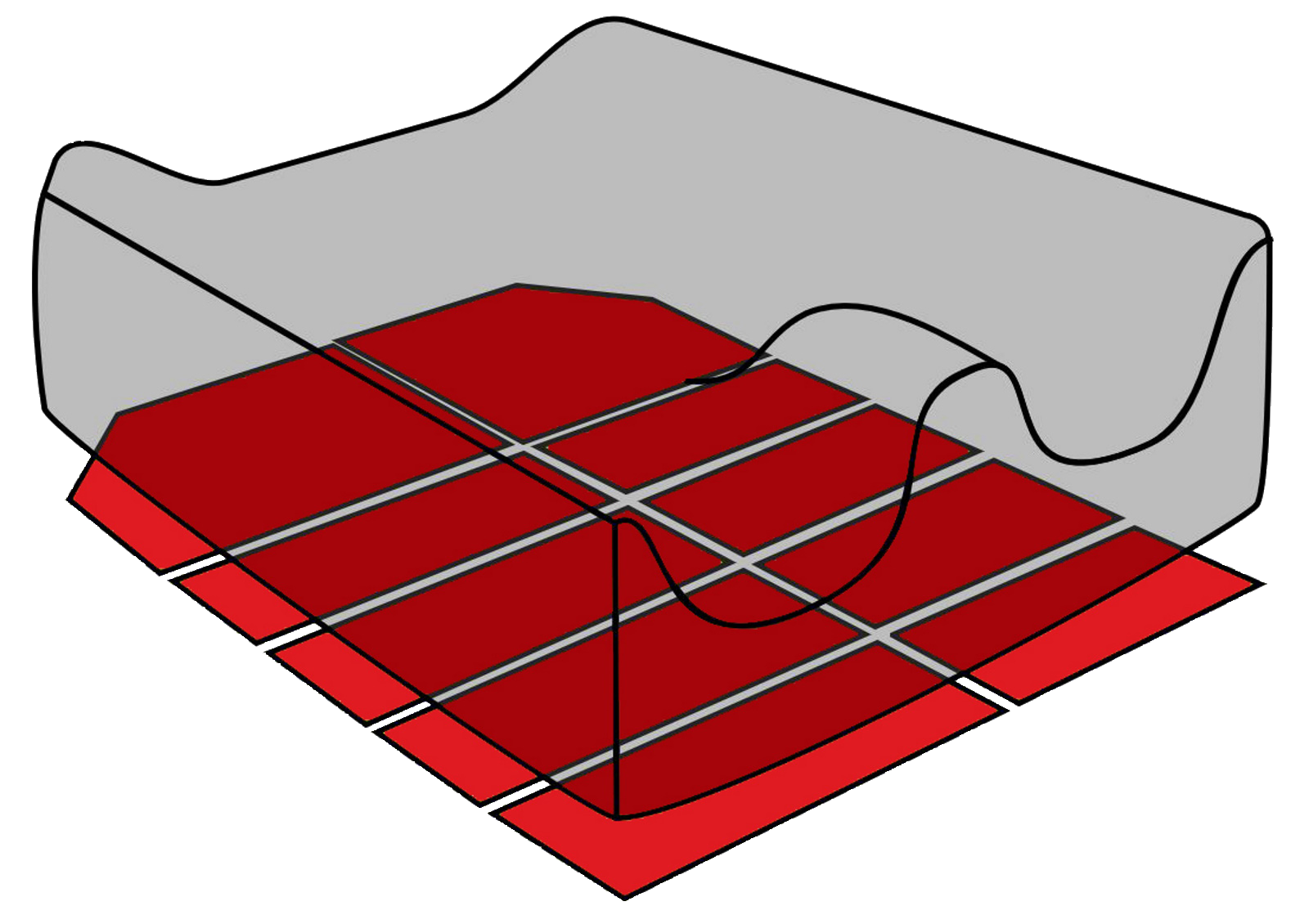 Extra Spex Cushion Positioning Kit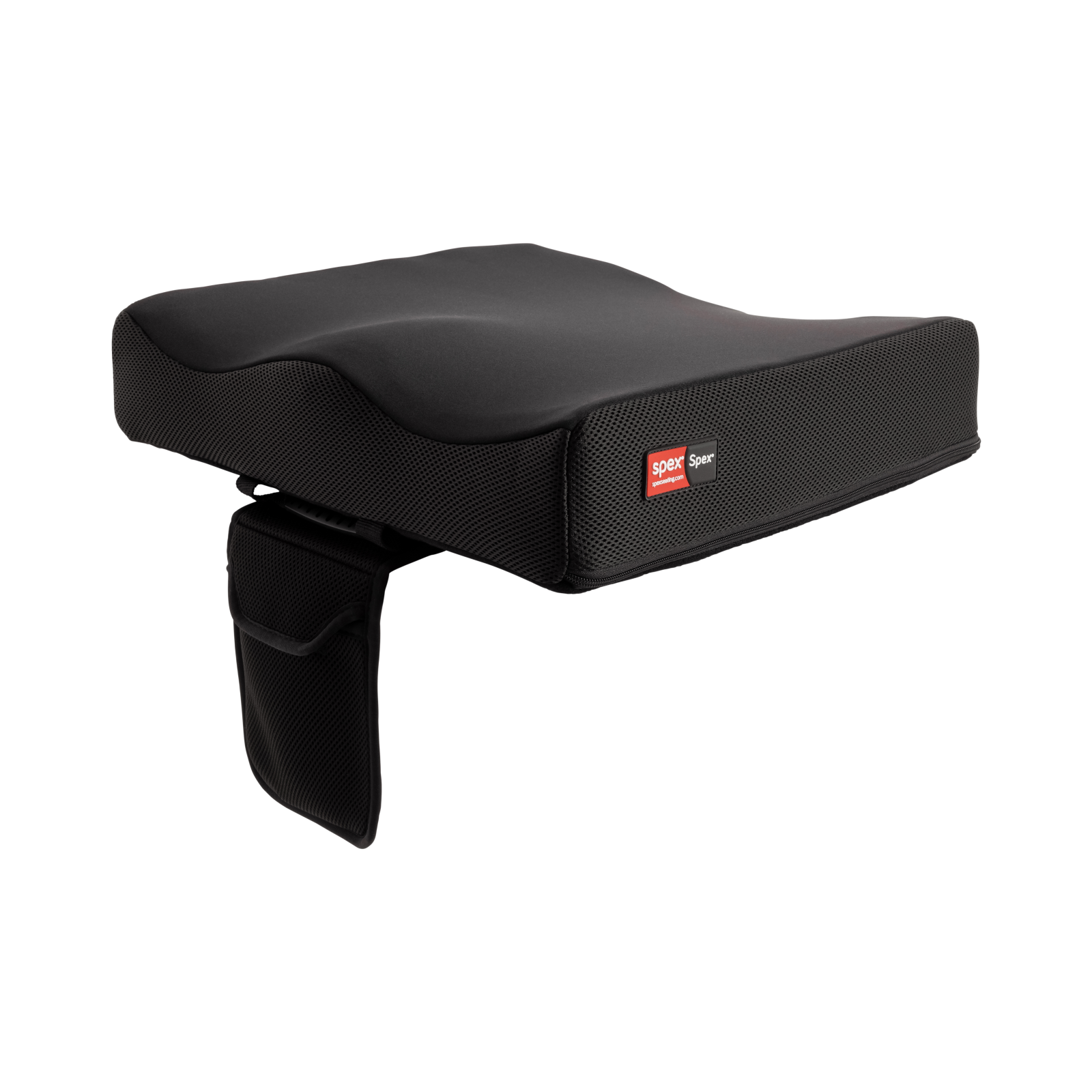 Spex Phone Accessory Bag
Spare Cushion Cover
A spare cushion cover assists with laundering purposes so you have a back-up cover on hand to ensure your cushion looks fabulous and clean at all times!
Spare outer breathable covers as well as inner incontinence covers are available to purchase.
Brighten up your cushion with a coloured cover; choose from Chilli Red, Mango Orange, Bumblebee Yellow, Leaf Green, Ocean Blue, Royal Purple, Calypso Pink, Granite Grey, or the standard Black!
Spex Cushion Rigidiser
Lightweight rigidiser can be added to any of the Spex range of cushions to provide a sturdy base, particularly for wheelchairs with a sling seat base.This design simply inserts underneath the cushion within the upholstery cover.
Part Numbers: 
| | | | | | | |
| --- | --- | --- | --- | --- | --- | --- |
| 1110-1010-200 | 1110-1012-200 | 1110-1212-200 | 1110-1214-200 | 1110-1414-200 | 1110-1416-200 | 1110-1616-200 |
| 1110-1618-200 | 1110-1717-200 | 1110-1718-200 | 1110-1818-200 | 1110-1820-200 | 1110-2020-200 | 1110-2022-200 |
Spex 5° Cushion Wedge
Spex asymmetric 5° cushion wedge: 48mm High x 550mm Wide x 500mm Deep
Part Number: 
Extra Spex Cushion Positioning Kit
Additional set of Spex Cushion Positioning Pads.
1111-0273-000
Spex Phone Accessory Bag
Store mobile devices or personal belongings conveniently and safely with the Spex Accessory Bag! Attached by Velcro to the base of the Spex Cushion, this is a great option for wheelchair users who want to access their belongings very quickly and easy on their wheelchair.
Part Number: 
Measurements
Cushion Pad Specifications
Product Performance
Cushion Size Chart
Width
Cushion Height
Weight Capacity
Trough Height
Product Weight
8″-10″
2″
200lbs (90kg)
50mm
1.6kg
11″-15″
2.5″
16″17″
2.75″
350lbs (160kg)
18″20″
3″
Cushion Depth
Number of Thigh Contouring Rows
Number of Thigh Contouring Pads
Number of Pelvic Contouring Pads
8-9″
2
8
2
10-13″
3
12
14-17″
4
16
18-20″
5
20
21-24″
6
24
| | | | | | |
| --- | --- | --- | --- | --- | --- |
| Pressure Care | | | | 4 | |
| Positioning | | | | 4 | |
| Lateral Stability | | | | 4 | |
| Offloading | | | | 4 | |
| Changing Needs | | | | 4 | |
Red squares are standard sizes. Non-standard or custom sizes are available on request.