Supporting complex postures through adaptive Profile Curvature System.
The Adapta3 Back Support meets the needs of wheelchair users with complex postural presentations including anterior pelvic tilt, lordosis, posterior pelvic tilt, and kyphosis. The back support splits the rigid aluminium shell into three different sections that can be individually adjusted to achieve natural contours to position and support the pelvis and spine. The Adapta3 Back Support can provide the shapes needed to support the user by contouring the rigid aluminium shell, rather than the foam padding.
Spex Seating currently supply rigid back supports with contour-adjustable padding to support users with complex postural support needs. The new Adapta3 Back Supports are designed for users who require a back support surface with profile curvature adjustment to accommodate their trunk contour. These needs can be accommodated without excessive foam padding, making it easier to manage temperature and other related issues. The contoured surface remains supportive and holds its shape when the seating system is tilted or adjusted.
Adapta3 Back Support is designed for the individual who:
Presents with Kyphosis and Posterior Pelvic Tilt and require support at the sacrum and an increased surface contact area along with c-curved spine.
Presents with Lordosis and Anterior Pelvic Tilt and who require a higher back support or additional upper thoracic contouring.
Configurable mounting hardware options:
| Dual Mount | Forward Dual Mount | Forward Extended Dual Mount | Single Mount |
| --- | --- | --- | --- |
| | | | |
| 1259-2205-100 | 1259-2210-100 | 1259-2215-100 | 1259-2100-100 |
Adapta by Spex... Positioning with Less Complexity!
Nikayla's Story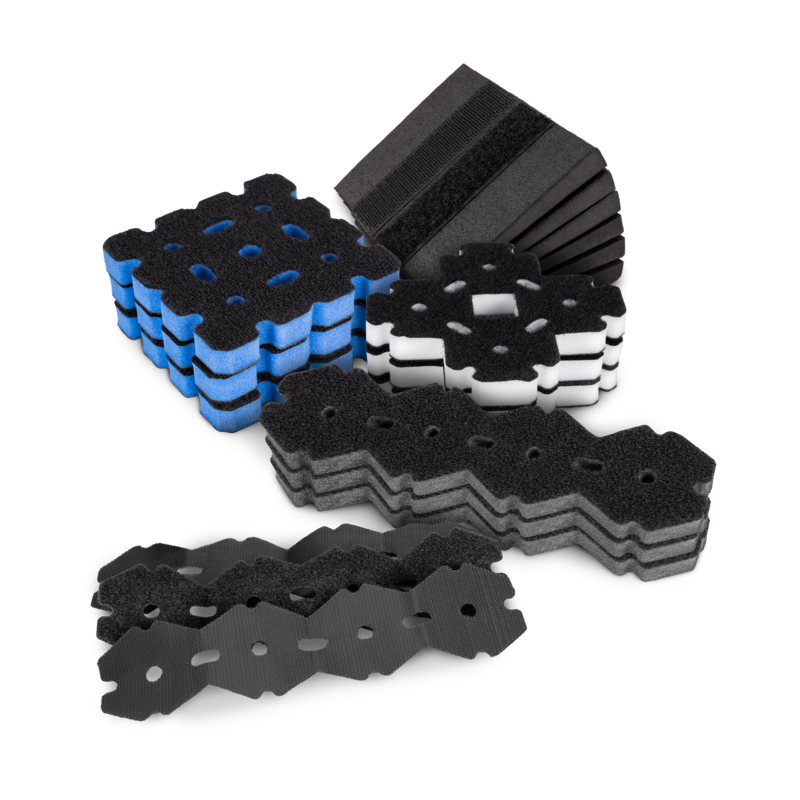 TSS Lite Kit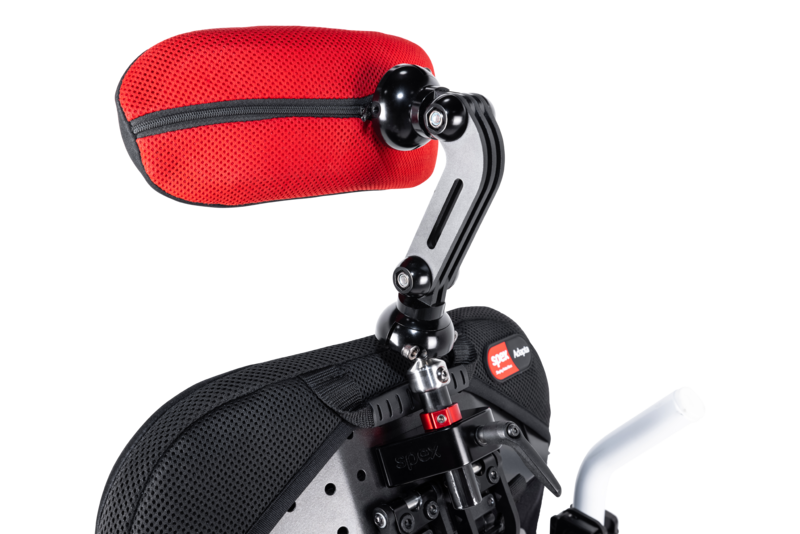 Stylo Head Support for Adapta3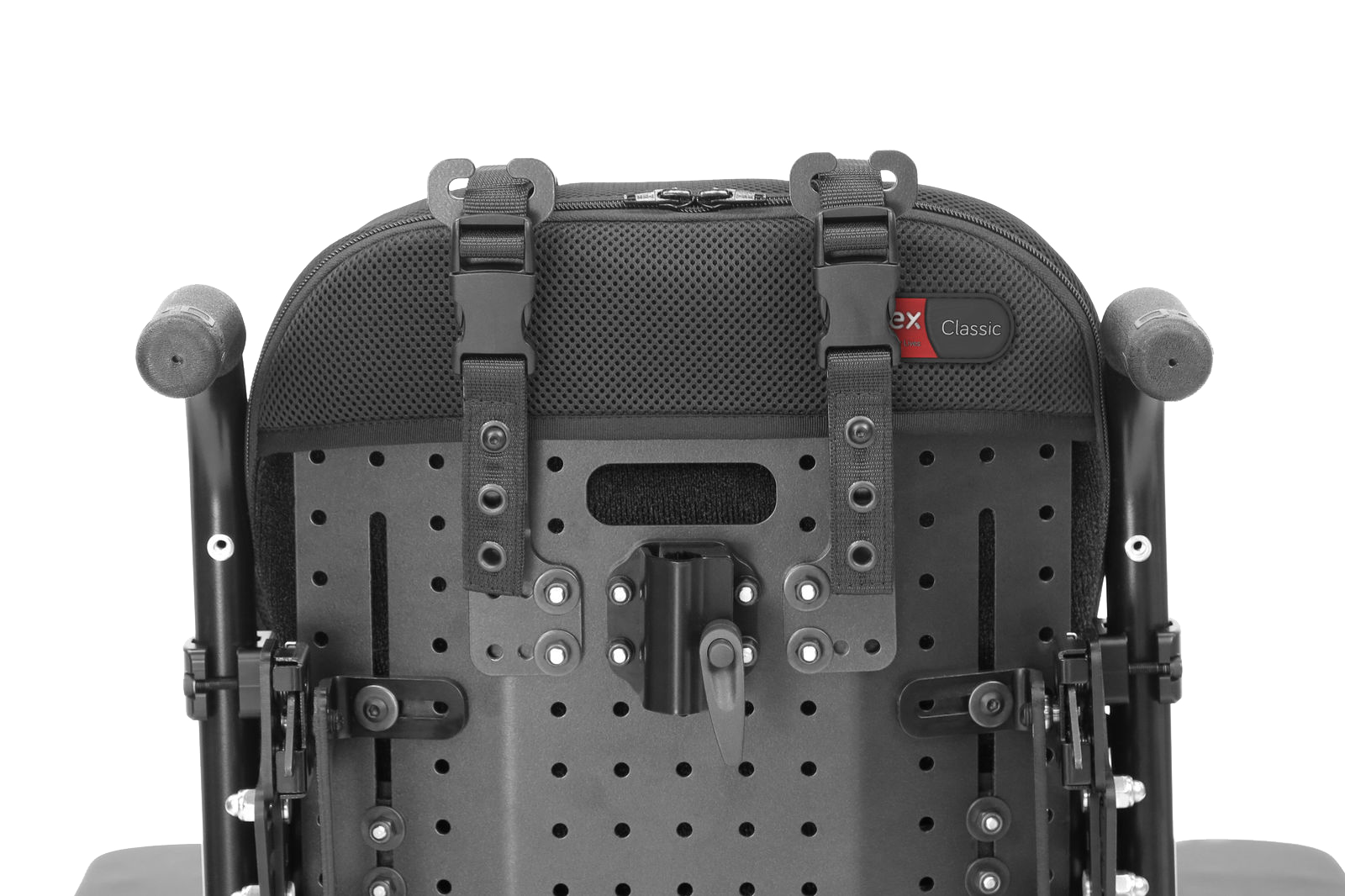 Spex Shoulder Strap Guides
TSS Lite Kit
Contouring and positioning kit for use behind Zygo upholstery. Includes selection of TSS
shape elements and foam wedges.
Stylo Head Support for Adapta3
When scripting a headrest with the Adapta3 Back Support a Stylo with a reduced
length stem is required to ensure the stem and back support sections do not conflict.
Code:
Stylo 160 – 1274-1255-000
Stylo 260 – 1274-128
Spex Shoulder Strap Guides
Recommended for any harness choice to prevent shoulder straps from falling off shoulders.
The Spex Harness Guides are height adjustable and fit both 1″ and 1.5″ straps. Package includes
a pair of 5mm aluminium strap guides and attachment hardware.
Part Number: 
Measurements
Adapta3 Sizing Chart
Foam Composition
Transport Certified
| | |
| --- | --- |
| Style | Adapta3 Back Support |
| Weight (without hardware, 16″ back) | 2.6kg |
| Weight Capacity | 136kg |
| Angle Adjustment Capability – Top | 40° Anterior & Posterior |
| Angle Adjustment Capability – Bottom | 40° Anterior & Posterior |
| Height Adjustment | 2″ |
| Overall Thickness (Including Cover) | 35mm |
| Code | 1257-WWHH-300 |
| Flip-Back Version | 1257-WWHH-3FK |
Adapta3 Back Supports have an additional 2″ padding length to accommodate adjustments.
To order, replace the HH and WW in the code, with the appropriate size required.
Transport Certified All Adapta Back Supports and hardware configurations are suitable for transport in a vehicle when mounted on an appropriate wheelchair frame.